The "Career Booster" is a compact program designed to support companies who undergo market oriented adjustments . The program supports and relieves organizations with the need for a quick and efficient implementation of human resource decisions based on the current economic climate. With the Career Booster we focus on the systematic gain in attractiveness by affected employees. We make them fit for the job market and increase their chances in the competition for exciting job opportunities.
Process Career Booster
Personality- and Skill-Check
Target- and Method-Check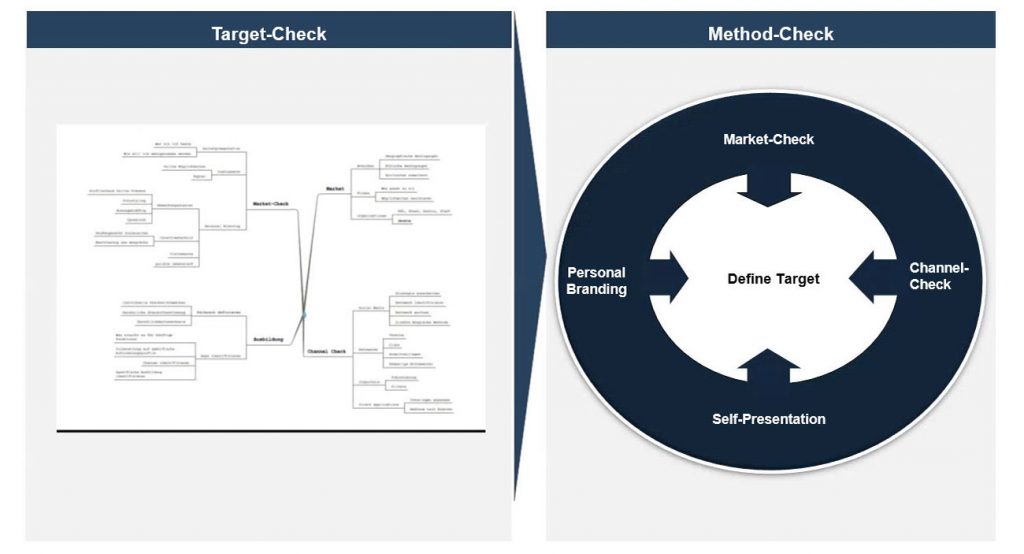 More information about our "Career Booster" program (German) : "Aufhebung Mindestkurs – "katastrophale Folgen für Volkswirtschaft und Arbeitsplätze?" 
Coaches
Our coaches combine a business background with psychological expertise. Diversity in our teams guarantees a solid foundation of knowledge and experience.
Experience
Due to our extensive coaching experience in demanding situations, we can offer our customers a unique value.
All our coaches have international experience, bring valuable insights from executive positions and entrepreneurial functions and bring result oriented sparring qualities to the table.
Respect
We approach people with forthrightness and respect. Our central values are fairness and equality, everyone is treated with the same openness and you will never be in the dark with us. An honest and fair feedback crowns every counseling.
New- / Outplacement and Personal Assessment
Level Consulting has extensive experience in accompanying managers and specialists in a phase of reorientation and offers a unique portfolio of goal oriented services and tools. The service packages are custom designed.
7 Phases to a successful new start
| | |
| --- | --- |
| Welcome Check In | Refelection – Honest self assessment |
| Analysis | Personal assessment and getting to understand the job market |
| Goal setting | Transform self management |
| Market research | Learn effective job application skills and apply these |
| Interview | Convincing presentation / Professional appearance |
| Decision | Personal and convinced decision |
| New beginning | Effective new start, successful integration |
Personal Assessment
Career Cycle Management is a central element of corporate governance. It is also the responsibility of every single person. Before you set off on a trip, you need to know where you are going to. In every exemplary career there are markers and intersections that require a decision. During these critical times, decision making skills and active action are required. Level Consulting supports companies and staff who find themselves in professional dead-ends, in flux or in the search for new roles.
With a structured procedure and scientifically tested instruments, we always keep an eye on the target and are transparent for our clients at all times.
Analyse
Corporate analysis
Determination of the relevant factors for success
Strategic success portfolio
Search
Definition of the search strategy
Research
Insertion
Contacts
Selection
Pre-selection
Longlist
Interviews
Overview
Recommendation
Decision
Candidate presentation
Clarification of references
Assessments
Employment decision
Integration
Feedback talks
Verification of success
Summary of the essentials:
A strategic profile of success developed in detail ensures a mutual understanding of the search profile and permits target-oriented procedure.
We individually align the search strategy with your needs (direct contact, print and online platforms, social media, database).
Important information on the right fit result from the matching forecast of the success profile with the personality profile of the candidate.
We also support you with individual services in the scope of integration after recruiting.
Details on the process:
Analysis
In the scope of a confidential, bilateral meeting, the relevant factors for success for the positions to be filled are determined based on the corporate objectives. In addition to the required competences, knowledge and experience, psychological requirements ("soft factors") are recorded that are illustrated in a personality profile. The basis for this is comprehensive understanding of corporate culture and its strategic alignment and deeper industry know-how of the consultant. The strategic profile of success developed in detail ensures a mutual understanding of the vacancy for which a person is to be recruited and permits target-oriented, effective and efficient procedures. Since all consultants at Level Consulting AG work in a very team- and network-oriented manner, the high quality of search processes can be warranted at all times.
Search
A wide-spread network in the different industries and a research team working with great routine and target-orientation permit quick identification of potential candidates. The search strategy with individual market processing instruments is individually coordinated with your needs. In addition to research in our databases, insertion and direct contacts, user of new media as well as innovative web-based approaches are important components in gaining best candidates for the vacant job.
Selection
With well-founded knowledge of the human nature and the scientifically tried and tested assessment competence according to a matching forecast between success profile and personality profile, clear recommendations can be made on the candidate's fit. The indicative overall dossier contains not only an overview of the most important information but also all the relevant documents of the applicant. It is submitted to the customer to prepare for the candidate presentation.
Decision
The most promising candidates are introduced to the customer in an interview moderated by the consultant. Candidates are shortlisted in coordination with the consultant, with comprehensive reference clarification and additional assessments being permitted. Until the decision has been definitely reached and the contract has subsequently been signed, the consultant engages in close exchange of information with the parties involved.
Integration
The knowledge from the selection procedure permits us to actively support our customers in best integration of the new employee even after the decision to employ him. Our practical support ensures that the onboarding process has a positive result and the ability to perform pays off as quickly as possible. Other follow-up discussions after several months are important for quality assurance and can generate true added value for the customer as well.
Knowledge and successful use of the different search channels forms the basis for identification and contacting of the most suitable persons. The best mix of the individual search instruments varies from case to case. Based on a mutually defined profile of success for the job to be filled, we will develop a customised search strategy for you that combines individual search instruments and ensures that the right persons are reached quickly:
Social Media
The new media are an essential part of modern recruiting. Targeted and professional deployment requires deep knowledge and remaining continually up to date with the rapid development. For many years, we have been tracking development at the first front. We know the trends and market development first-hand. This applies to the area of identification of potential candidates as well as to the viral distribution of 'job opportunities'.
Direct Contact
In addition to social media, we also use target company lists, databases and personal networks to identify potential candidates. In any case, however, well-founded industry or market knowledge is required to identify the right personalities, contact and win them for you. Again, it is very important to coordinate closely with the customer.
Print and Online Media
Even though they have long been declared dead, print and in particular online advertisements are still an important column of search. After all, they permit wide-spread market access and thus contacting many different target groups. In this context, it is important to identify the right platforms from the variety of possibilities. Additionally, the advertising text is to convey a realistic image of the requirements and actively sell the company and the vacancy.
Databases and Personal Networks
A comprehensive database and our personal, industry-specific networks offer you another direct, quick access opportunity for the market and thus to potential candidates. This permits us to reach persons who are not actively aligned with the market as well.
Network IIC Partners
By association with the globally acting network of IIC Partners, we are able to identify and contact the right people internally as well.
Supported on our basic understanding of ourselves as a provider of solutions, we support you with solutions through all hierarchy levels :
Board of directors
Chief Executive Officer
Company manager
Chief Financial Officer
Operations Director
Chief Information Officer
Head of marketing
Head Human Resources
Head of constructions
Head of Supply Chain Management
Sales Director
System Engineer
Head of Supply Chain Management
Sales Director
System Engineer
Project manager exhaust after-treatment
HLK expert
Paint engineer
SAP developer
Product Manager
In more than 20 years, we have acquired comprehensive experience in many industries and developed wide-spread networks:
Top Management
Middle Management
Experts
Healthcare & life science
Financial services & insurances
Public sector & non-profit organisations
IT & Telecommunication
Energy & industry
Building & real estate
Consumer goods & retail
Service providers & trading companies
Transport & logistics
We were permitted to fill the following national and international positions to the complete satisfaction of our clients already (excerpt):
Chief Executive Officer (CEO)
Chief Financial Officer (CFO)
Chief Information Officer (CIO)
Chief Technology Officer (CTO)
Head Human Resources
Real estate director
Group Compliance Officer
Head of Reporting & Accounting
Account Executive
Manager Sales
Head of Controlling
Head of the department of safety,
health and environment
Head of services
Key Account Manager
Senior Consultant Banking
VAT Expert
System Architect
Solution Architect
Business Analyst
Product Manager
Paint engineer
Secretary general
Administrative director
Department manager, presidium
Health care director
Association manager
Programme manager
Fundraiser
For reasons of confidentiality, we do not name our clients here.
We will gladly disclose further credentials on request.
Managers need professional partners with whom they can discuss a manifold of themes. Qualified partners and the external viewpoint are difficult to find. We bring our experience to support you, help get to the core of a situation, to reflect and develop the right strategy. Our coaching approach orients itself to the current situation and the desired outcome. We support executives in analyzing the situation, developing action points and achieving a positive perception on key questions.
Disclaimer
All content published on this website (layout, text, images, graphics, etc.) are subject to copyright. Any use of copyrighted material requires the prior written consent of the copyrigth holder of the content. This applies especially to reproduction, adaptation, translation, storage, processing and reproduction of contents in databases or other electronic media and systems. Photocopies and downloads of web pages for personal, academic and non-commercial use are permitted.
The provider is not liable for the accuracy, completeness or timeliness of the information provided. Contributions give reflect the opinion of the author.
Editorial
Level Consulting AG
Muhlebachstrasse 70
CH-8008 Zurich
Email: level@anti-clutterlevelconsulting.ch
Tel. +41 44 366 66 33